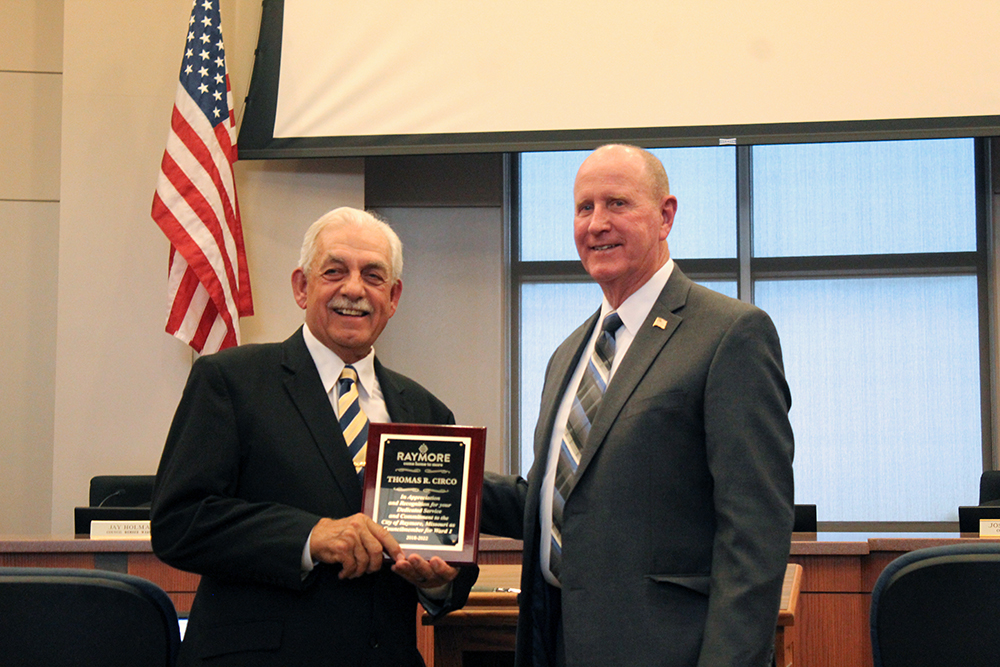 Sonja Abdelgawad secured her seat for Ward 4 council member.
Incumbent Jay Holman was reelected council member for Ward 3.
Incumbent Reginald Townsend retains his Ward 1 council seat.
Kristofer P. Turnbow ran uncontested for mayor of Raymore.
Victoria Wills will finish the one-year unexpired term left by former Ward 1 Council Member Dale Jacobson.
City Clerk Erica Hill (left) congratulates Tabitha Forster after taking the oath of office during the April 11 city council meeting. Forster is the newest member of the Raymore City Council after defeating incumbent Thomas R. Circo with a 231-218 vote for the Ward 2 seat. (Tyson Fisher/Raymore Journal)
Election results: Council mostly intact, voter turnout abysmal
By Raymore Journal staff
This year's general municipal election results did not generate too many surprises, with only one city council incumbent losing a seat. However, only a small percentage of voters showed up.
Of the four council incumbents whose reelections were being challenged, only one lost their seat. In what turned out to be the closest race, Tabitha Forster beat incumbent Thomas R. Circo for the Ward 2 seat with a 231-218 vote.
Mayor Kristofer P. Turnbow ran uncontested. Just over 1,000 people voted for Turnbow, a fraction of the total number of Raymore voters. Countywide, only 11% of registered voters submitted a ballot.
Many may point to a low voter turnout as a sign of a weakening democracy. Although Mayor Turnbow called the number "abysmal" during Monday's council meeting, he also suggested a more positive interpretation of the numbers.
"Is it indicative of the satisfaction of our community as well?" Turnbow suggested. "That change is not necessarily what we need right now."
Results for the contested seats:
Ward 1
Reginald Townsend – 196 votes – 57.82%
Aaron Fantasma – 143 – 42.18%
Ward 2
Thomas R. Circo – 218 – 48.55%
Tabitha Forster – 231 – 51.45%
Ward 3
Kenneth J. Pfeiler – 137 – 41.27%
Jay D. Holman – 195 – 58.73%
Ward 4
Dillen Steeby – 154 – 33.41%
Sonja Abdelgawad – 307 – 66.59%
The packed race for the open Raymore-Peculiar School Board seats got competitive for about half of the candidates. Eight candidates were vying for two open board member positions, including the two incumbents running for election, Bill Lowe and Aaron Howlett. Only one would win their reelection bid.
With nearly a quarter of total votes, Carol A. Barnes received the most, taking one of the spots. Now retired after a 30-year career as a Ray-Pec School District teacher, smart money was on Barnes.
Lowe was the lone incumbent reelected. Howlett and Janet Jones were close behind.
Ray-Pec School Board Member
Carol a. Barnes – 1,272 – 23.48%
Bill Lowe – 1,011 – 18.66%
Janet Jones – 904 – 16.69%
Aaron Howlett – 824 – 15.21%
Dillen Steeby –431 – 7.95%
Thomas Walsh – 351 – 6.48%
Valentina Houser – 346 – 6.39%
Cheryl "Cheri" Bland – 279 – 5.15%
Below are results of other nearby races:
Harrisonville School District Board Member
Emily Stone – 483 – 24.46%
Jenny Wagoner – 467 – 23.65%
Brittney Sexton – 420 – 21.27%
David Peterman – 385 – 19.49%
David W. Reece – 220 – 11.14%
Belton Councilmember Ward 2
James Pryan – 208 – 52.00%
Carla Davidson – 141 – 35.25%
Matthew B. Schmidt – 51 – 12.75%
Belton Councilmember Ward 3
Chris Richardson – 235 – 58.75%
Lorrie Peek – 165 – 41.25%
Belton Question 1: Street GO Bonds
Yes – 1,085 – 74.16%
No – 378 – 25.84%
Belton Question 2: Water revenue bonds for water line replacement
Yes – 1,052 – 72.20%
No – 405 – 27.80%
Belton Question 3: Half cent sales tax extension
Yes – 902 – 61.61%
No – 562 – 38.39%
Belton Question 4: Use tax for pavement, pathways, pets and parks
Yes – 684 – 46.75%
No – 779 – 53.25%
Greenwood Alderman Ward 2 – Two-year term
Kyron "K" McClure – 9 – 50.00%
Michael Marchand – 8 – 44.44%
Andrew Tracey – 1 – 5.56%
Greenwood Alderman Ward 2 – One-year term
Scott A. Lamaster – 10 – 58.82%
Jody Bishop – 7 – 41.18%
Lake Winnebago Alderman Ward 2
Don Davis – 122 – 56.22%
Robert G. Bryant – 95 – 43.78%
Lake Winnebago Question: Local use tax
Yes – 68 – 15.45%
No – 372 – 84.55%
Peculiar Mayor
Doug Stark – 384 – 57.92%
Mike Gallagher – 240 – 36.20%
Matt N. Groepel – 39 – 5.88%
Peculiar Alderman Ward 3
Ty Erickson – 83 – 31.56%
Matt Hammack – 180 – 68.44%
Peculiar Proposition 1: Annexation request
Yes – 422 – 63.27%
No – 245 – 36.73%